Regular price
Sale price
€16.50
Unit price
per
Sale
Sold out
🌟 Unlock a world of discovery for your child with our Montessori learning game. This versatile set offers a multitude of learning opportunities, from animal recognition and pairing baby animals with their mothers to building vocabulary. As your child grows, new games and role-playing adventures await.

🧩 Plus, this play set is not just about learning—it's about fun! It enhances motor skills, hand-eye coordination, and concentration while providing hours of entertainment.

🚗 Need an on-the-go activity? These cards are perfect for young explorers and can be easily divided, so you can start with just a few animals.

👶 Who's it for? These fruits and veggies cards are perfect for curious minds of all ages. They make great gifts for birthdays, Easter, starting daycare, and even special occasions like weddings and family celebrations. They're versatile and engaging, suitable for children as young as 18 months.

📦 What's Included?
46 cards as follow:
23 fruits: Orange, Banana, Mandarin, apricot, grape, pineapple, blueberry, lemon, pear, kiwi, watermelon, strawberry, apple, plum, quince, currant, blackberry, gooseberry, raspberry, peach, cherries, Mango, Dragonfruit
23 vegetables: Tomatoes, Olives, Eggplant, Spinach, corn, butterhead lettuce, spring onions, fennel, red onions, mushrooms, broccoli, cauliflower, potatoes, peppers, carrots, radishes, zucchini, peas, avocado, pumpkin, cucumber, yellow turnip, beans

Cards dimensions are 65mmx65mm // 2,5 inch 

📚 Educational Use:
Our materials are intended for personal use or in educational institutions, such as childminders, kindergartens, and schools.

📸 Share the Fun:
If you showcase our products on social media, please use the hashtags #kanoeditions and tag us. We'd love to see your creative play!

📄 Copyright Notice:
All texts and graphics are protected by copyright, owned by "SIA Kano editions".
Share
View full details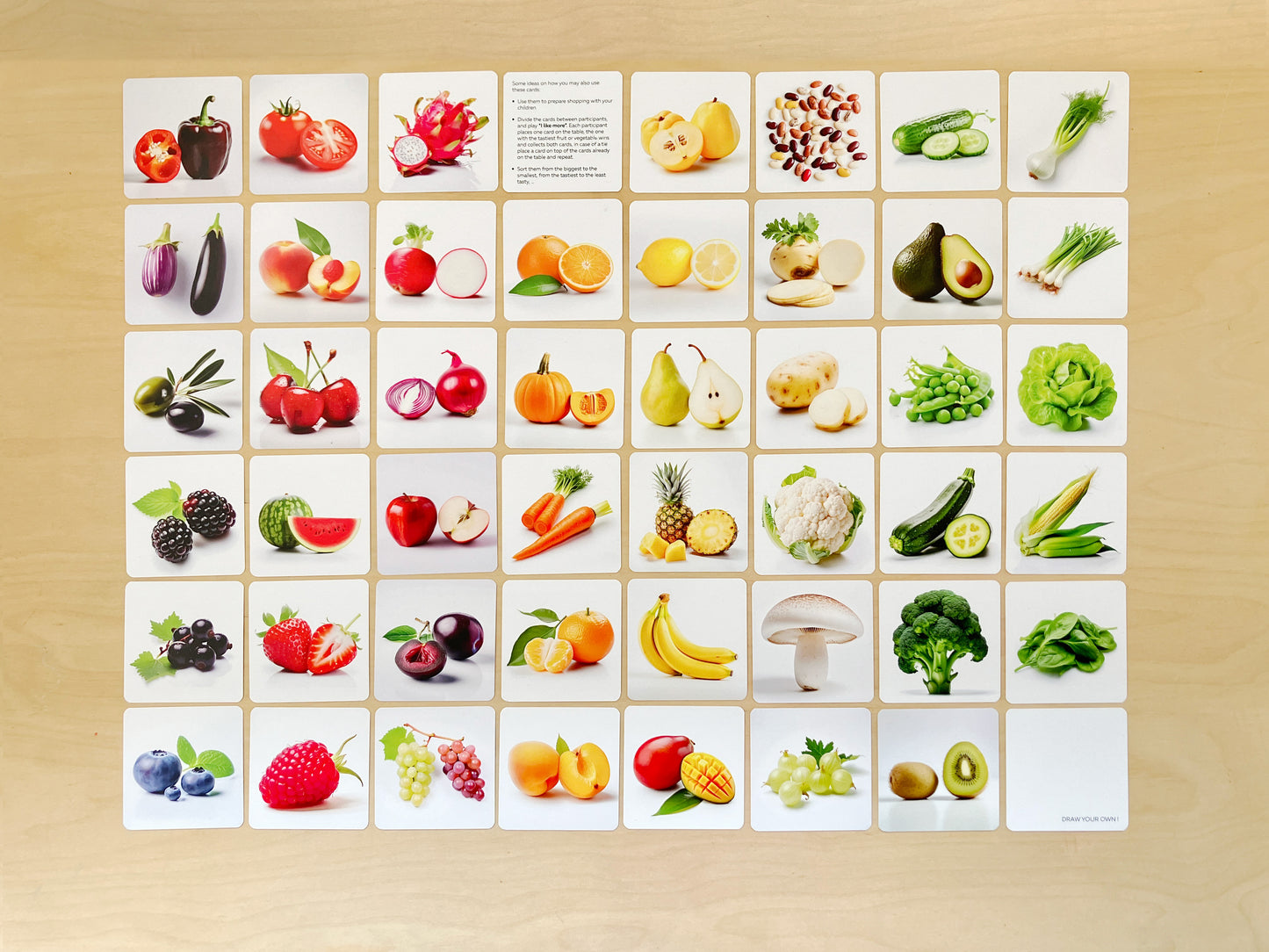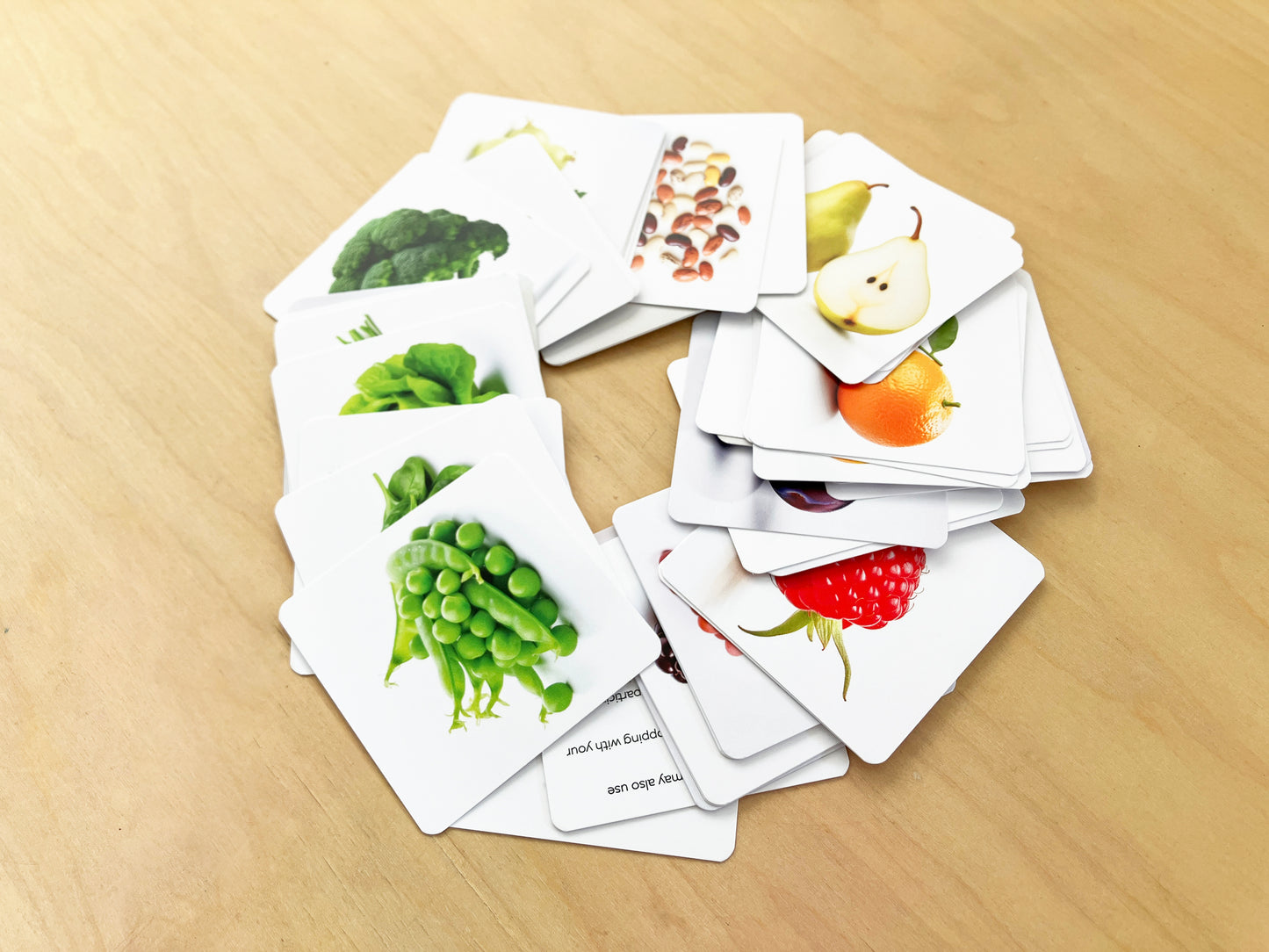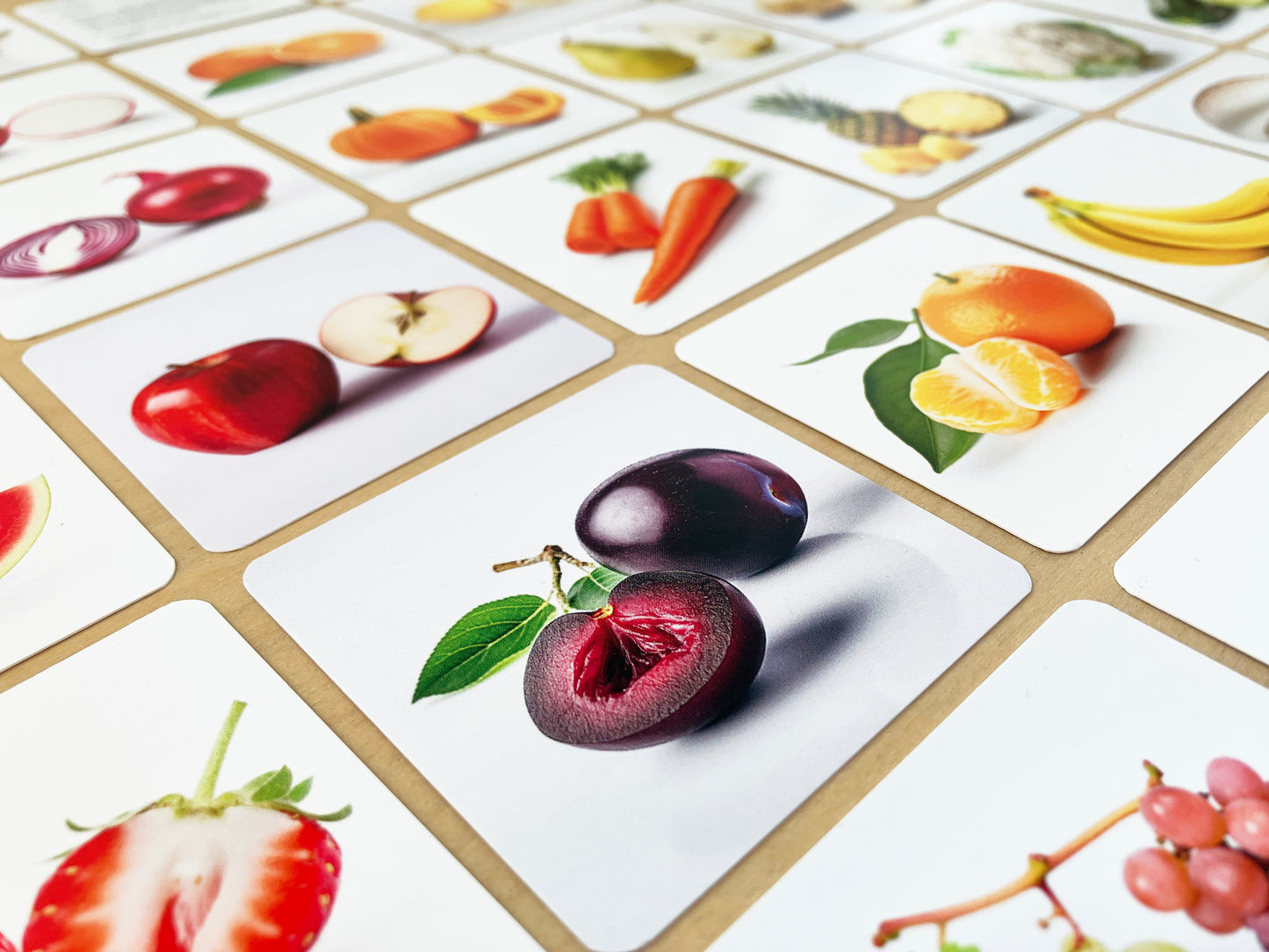 About our products
Responsible

We pay extra attention in the development of our products to sustainability aspects, as well as working with chemicals not harmful to the environment such as:
– linseed oil and wa for wood
– biodegradable glues and stickers
– paper padded envelopes for shipping
– and more ...

We also have a strong stance on social responsibility.
Supporting others around us

We do pay attention in how the products are made, packed and produced.

We try to work as much as possible with local players, and local community. Here are some of the actions we have taken:

– Packing and quality control of the posters is made by people with disabilities 3km from our office.

– We work with a 2nd center for people with disabilities for the production of the Montessori pencil holder.

It is important that our business activities not only benefit you with high quality products but can also make a difference where we operate.